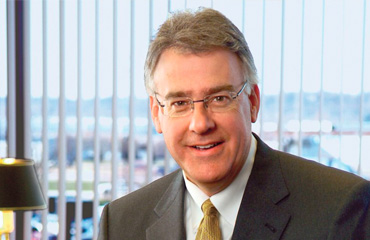 Rich McClure has leveraged senior leadership roles in public policy and privately held companies to drive strategic change. In the past 30 years, he has served as Chief Executive Officer of diversified specialized transportation and relocation companies, Chief of Staff, Deputy Chief of Staff and Cabinet officer for Governors in two states, and most recently Co Chair of the Ferguson Commission appointed by the Missouri Governor after the turmoil in Ferguson.
McClure holds a Masters in Public Administration from the Maxwell School of Syracuse University and a Bachelors degree in Management from Missouri State University (Summa Cum Laude) and resides in St. Louis, Missouri. Rich and his wife Sharon were the first husband and wife team on the CBS show Undercover Boss in 2011.
Richard's Accomplishments
Acquired Asian and European relocation and specialized transportation companies to establish a global service delivery footprint for a U..S. focused logistics company

Developed market leading technology and demand pricing strategies in consumer  relocation markets

Grew market share to 45% in highly competitive environment with significant public and private company competition

Pioneered strategic civic engagement strategies for large company CEOs  in complex public policy environments

Leveraged banking and public finance experience to develop innovative financing strategies in specialized insurance and leasing markets

Co chaired a groundbreaking public commission in the wake of racial unrest in Ferguson, MO that the New York Times said  "offered a blueprint to improve life not only in Ferguson and elsewhere around St. Louis, but also in many places where underprivileged communities are mistreated or neglected."
Have questions? Ask our experts.